Stein Holding Contests
The ultimate test of German strength and endurance—the Stein holding contest. Competitors will hold a full one-liter beer stein in front of them with a straight arm, parallel to the ground. It may be easy at first, but as the contest continues, the real challenge begins. The last man/woman hoisting is the winner. Registration will take place at the festival and the competition itself will be held on the stage within the main beer tent. (see schedule below)
SCHEDULE
Friday/Saturday:
Women's Bracket – register by 6:45PM, contest starts at 7:00PM
Men's Bracket – register by 7:45PM, contest starts at 8:00PM
Mixed Two-handed Bracket – register by 8:45PM, contest starts at 9:00PM
Sunday:
Kid's Bracket – register by 1:45PM, contest starts at 2:00PM (Root Beer used in place of beer)
Yodeling Competitions
Think you have what it takes to become a yodeling champion? Then bring your best (or worst) voice to the Duluth Oktoberfestival yodeling competitions. Registration will take place at the festival itself, the competitions are open to all ages, and they will be taking place on the main stage throughout the weekend with some help from our world-class yodeler, Kerry Christensen. Winners receive free swag and, of course, bragging rights!
Chicken Dance
The Chicken Dance is for everybody and there will be plenty of opportunities to shake your tail feathers. Throughout the weekend, make sure to join in the dance when you hear the song. And don't worry about looking silly – that's the point!
Pretzel Toss
The classic game of ring toss gets a German makeover!  Plungers, pretzels, and the cheer when there's a "ringer"… what more needs to be said?
Brat Toss
Grab a partner and toss a few brats. Teams must complete a toss to-and-fro to see who can get the most brats in their bucket. Careful not to break them as you may end up tossing twice as much. The team with the most brats in their bucket by the end of the time limit wins. Game on!
Cornhole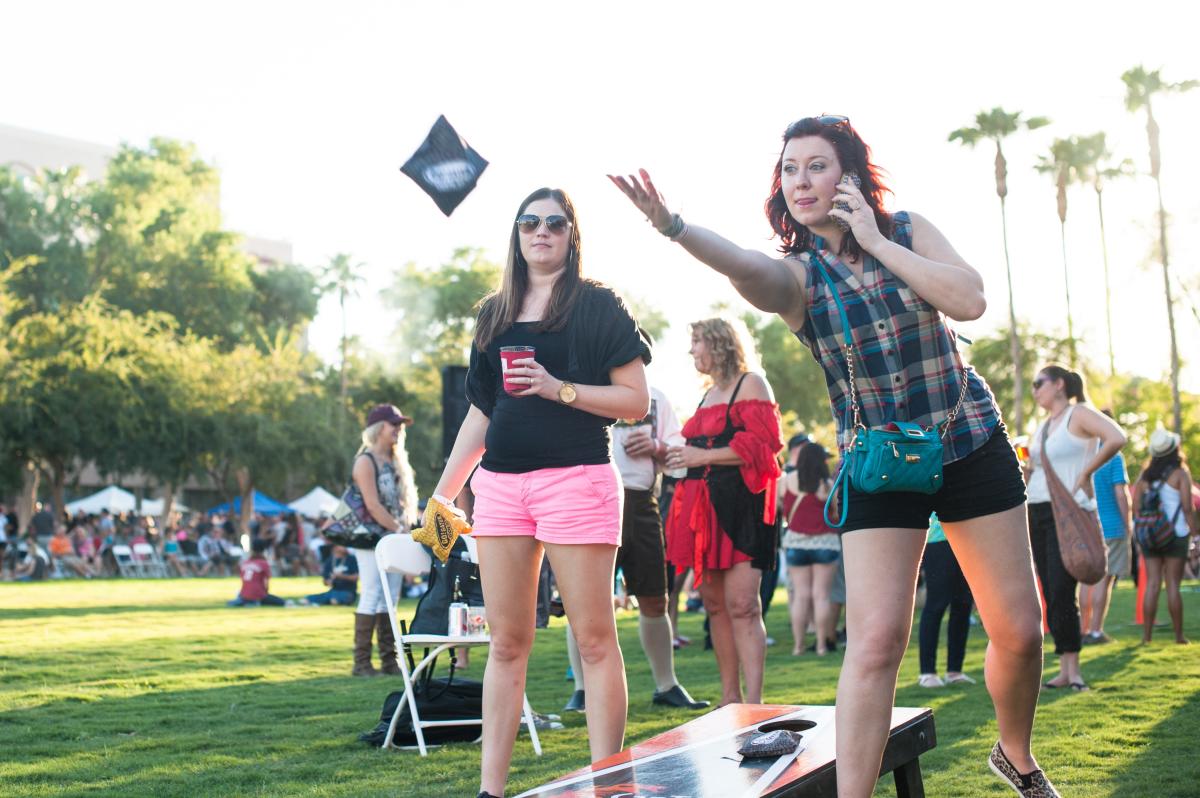 The classic lawn game in which contestants take turns pitching their bean bags at the cornhole platform until they reach a score of 21 points. A bean bag in the hole scores 3 points, while one on the platform scores 1 point. Grab your friends and join us for some friendly competition.
Nagelbalken
The objective is simple: to drive a nail into a cross section of wood faster than your opponents. Easy you say? Well then, we will see you at the Duluth Oktoberfestival to see if you actually have what it takes!
Barrel Roll
Feeling strong? In the Barrel Roll, players will push a barrel through the course while racing against the competition. Rules are simple: push the barrel to the finish line as fast as you can. A leader board will be updated throughout the weekend with the fastest times so start stretching now if you want to be crowned the Barrel Roll Champion!